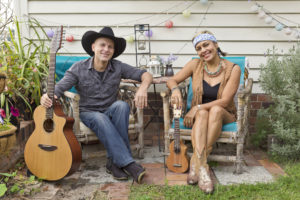 Tomorrow night, Friday 5th July, Willie Nelson's Love Child kicks off their "Willie and the Whales Tour" of the east coast of Western Australia with a 6pm performance at the Ravenswood Hotel.
Visitors to the "Ravo" will enjoy three sets of great entertainment by Brisbane-based Sandra Beynon (vocals and ukuleles) and Sean Mullen (guitar) paying tribute to the great song-writing of the one and only Willie Nelson.
The Ravenswood Hotel is a favourite haunt for music lovers and it's an honour for the much-toured duo to play this beautiful venue.
In 2017 we toured from Broome to Alice Springs, but this is our first visit to the east coast, and to kick off our tour at such a beautiful venue is a real treat," said the Love Child, Sandra Beynon.
The duo has toured all of Outback Queensland, the Torres Strait, the Top End and now will take their show right up to Exmouth, where Cadillac's Honky Tonk Bar and Grill will play host to this act.
Uber-talented guitarist, Sean Mullen, will also be performing his Satriani Tribute Show on Saturday 6th July.