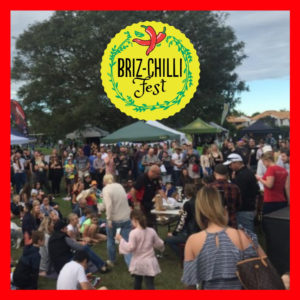 Waterfront Park at Newstead will come alive with spice and excitement on Sunday 9th June 2019 for the second annual Briz Chilli Fest.
Run by Body and Soul Australia Music and Events and supported by Brisbane City Council, this fun family and pet-friendly event is sure to get the blood pumping for those keen chilli-heads who cannot resist a little Scoville challenge.
Featuring Hellfire Alley with over 20 chilli product vendors to tantalise your tastebuds, the festival is heaven for those who cannot live without the spice of life.
Communities like India, Korea, Malaysia, China, Africa and Latin America have long adored chillies and could not imagine their food without it, but we Aussies are taking up the bandwagon too with chilli festivals growing in popularity all over Australia.
Briz Chilli Fest is the only festival conducted in Brisbane and attracts the young and old to enjoy a day of fun in the outdoors while indulging in anything from chilli donuts to choc chilli martinis at the AfterBurn Bar.
For the kids, we have a junior obstacle course jumping castle, pony rides, animal nursery and craft activities.
For the big kids, there's also a Gladiator Duel jumping castle challenge!
The Triple S Model Boat Club will be showing off their members' watercraft on the lake fronting the park, so that will be a delightful sight to see.
On Centre Stage, watch in awe as brave challengers take on any one of 6 chilli eating challenges!  Great Balls of Fire, Pyro Pizza, Flaming Wings, Napalm Noodles, Tequila Sip n Shout – with $100 cash, a trophy and glory at stake, the competition will be tough.
Tickets can be purchased online via Humanitix, or at the gate on the day.
The event supports Cystic Fibrosis Queensland through donating 10% of profits plus running raffles on the day.
The big-hearted fellas from Viking Breed Social Motorcycle Club will be conducting an auction on the day for one of several chances to go out on a pillion ride during the course of the festival.
There's lots more, but we'll leave that for another day.