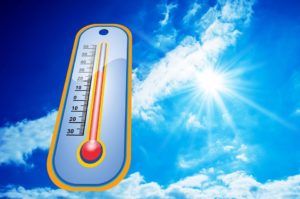 It's Queensland and the weather is warming up and the words on everyone's lips are "is it going to be a hot Christmas Day"?
For as only northerners can appreciate, the difference between 33 and 40 degrees can be the difference between prawns and ham going off before they've even been eaten!
The hard work required to put together a Christmas lunch can become more like labouring in the gulag (except it's a hot gulag) once the mercury rises above 33 degrees.  Even with air-conditioning, having ovens on, and often eating al-fresco by the pool, can provide a challenge to those who aren't into wearing bikinis or board-shorts around the festive dining table.
Similarly, for musicians who play between Christmas and the end of February, the experience can become one of sweaty regret.
We have sworn off playing any al fresco venues in February as the humidity and heat make it simply unbearable.  Fingers slide around on fretboards, perspiration gathers in collars and make-up melts sadly off faces.
People in Queensland become strangely lethargic in January and February with their sole purpose becoming to move as little as possible to avoid raising the inevitable perspiration that comes from just moving.
Yes, some of us have swimming pools which make life so much more bearable at this time of the year, however, depending on the size and placement of the pool, even the water can become a soupy, chlorinated bath with water at about 33 degrees.   This is the time that bacteria start to thrive and thoughts of urinary tract infections pop into one's head, and vague hopes that there is enough chlorine in the pool to get through yet another hot day.
So, when planning an outdoor festive event where musicians are featuring, try to position them in a spot with at good breeze, total shade, provide plenty of cool iced water for them, and allow them a good break between sets.
We musicians love what we do, and we love it when our patrons appreciate us enough to think about our comfort as we carry on our work.  After all, we are not waiters, we are not table-staff, we are not chefs or bar-staff.  All these people do also endure the heat and humid conditions, but they don't need to be creative or entertaining!  Musicians and performers have to smile through all sorts of discomfort, and provide the same level of professionalism that is expected from them under any circumstance.  So spare a thought for musicians in the tropics.
They are a special, brave kind of muso and we take off our hats to anyone who plays north of the Tropic of Capricorn!