It's nearly time to sit back under a palm tree, cocktail or beer in hand, warm tropical winter sun overhead, and enjoy some first-class jazz by UK songstress, Trudy Kerr.
The charity event supports the M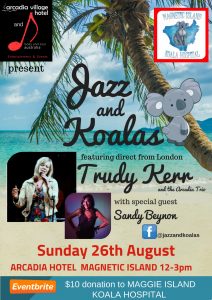 agnetic Island Koala Hospital headed up by veteranarian Ali Bee of Magnetic Island Vet.
The event is sure to delight audiences and will run from 12pm to 3pm in the grounds of Arcadia Hotel.
Also appearing will be vocalist, Sandra Beynon, of Body and Soul Music.
Patrons may make a donation at the gate.