Who doesn't love a cute mascot?  And they don't come much cuter than ChiChi our golden mouse.  He's a serious foodie as you can see.  Spicy, creamy or chocolatey – he's into it.
Huge thanks to Zac MacDonald  Digital Photography and Digital Media for producing the animated logo as well!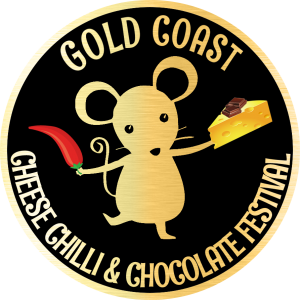 And that's just what our patrons can expect on Sunday 13th June 2021 at the beautiful Broadwater Parklands, Southport.
Brought to you by the organisers of Briz Chili Fest, Chillogan Chilli Festival and Jazz and Koalas Magnetic Island, we know it's going to be a great day.
Live music, market stalls, food challenges on stage, lots of grass to spread out your rug or chairs, and plenty of shade for the sun-conscious.
Enjoy the best of Queensland winter and put this event on your 2021 calendar.
If you'd like to participate, drop us a line at info@mychillifestival.com.au or visit the website  where you'll find the online application form. 
Organised in accordance with Queensland Health Covid-Safe Event Planning Guidelines.