Two of Queensland's most versatile musicians, Sandra Beynon and Sean Mullen, put together a great little show as part of the Jumpers n Jazz Festival in July 2021, this Sunday 18th July 2021.
Hosted by The Coffee Club Warwick, vocalist Sandra Beynon sang two sets of tunes made famous by Ella Fitzgerald and two further sets of tunes made famous by Brazilian singer, Astrud Gilberto.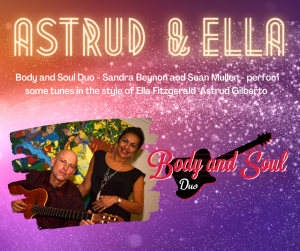 Sean Mullen's prowess on his beautiful Canadian Godin acoustic-electric guitar is more than evident in this show.  Sandra fills out the vibe with her percussion, moving from brushes on a conga head, plus some lovely tingles on the Zildjan ride, some wonderful work on the shaker, the claves, and a maraccas.
The Jumpers n Jazz in July Festival celebrates all things woolly and jazzy, and is one of Queensland's quirkiest festivals.
This year, the main street of Warwick played host to dozens of show cars as well which made for some great photos.
To book the Astrud & Ella Show featuring Sandra Beynon and Sean Mullen, contact them here.