Since moving to the south side of Brisbane in December 2018, Brisbane's premier duo, Body and Soul,  is enjoying more and more gigs at venues on this side of town.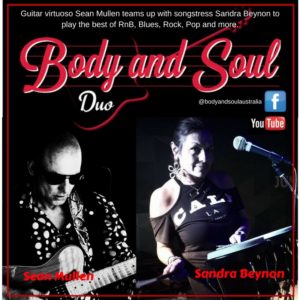 This Friday 29th March, they'll make their debut at Diggers Services Club from 9am playing through to 1am.
Their repertoire covers as wide range of music including Top 10 hits, blues, classic rock and RnB Hits
Diggers has long been a great supporter of live music in the Logan area and the duo is looking forward to entertaining music-lovers on the south-side since the Albert & Logan Hotel closed down last year, meaning they lost connection to their southside fan-base.
Diggers offers four dining and bar options and the the Bravo Bar is where you'll find Sandra Beynon and Sean Mullen performing as their Body and Soul Duo.
Don't be mistaken – this duo isn't your average duo.  In fact, most patrons who have had the pleasure of listening to this outfit always remark on how powerful their sound is.  Given their state-of-the-art PA system and dedication to finding great-sounding backing tracks, no doubt this is the case.
For a kick-ass night of entertainment, get on down to Diggers this Friday, and check out the duo's gig guide here for future dates at that venue.
If you're looking for great entertainment for your next party or event, look no further than Body and Soul Duo – they specialise in functions and can ensure your event will be memorable and tailored to your needs.   Give them a call on 0418 762 615 or email them