As I walk out of a bar in the Valley, having enjoyed a performance by two great musicians, I pondered about those people who are great supporters of live music and always make an effort to get out and soak up some tunes every weekend, or even during the week.
My neighbour Karim is one of those special people.
A middle-aged painter by trade, and a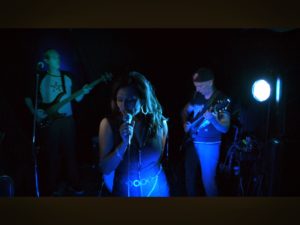 bedroom guitarist,  he has a formidable commitment to the enjoyment of live music and, in doing so, is one of those precious people of whom the live music industry (and venues) need more.   Be it mid-week or weekend, he's out there in awe of musicians, admiring their skill, their passion, their guts and sometimes feeling their pain as fewer than optimal people attend their shows.
Week in, week out, to get off your butt, get in the car or taxi,  spend money at the venue, pay a cover charge and give an artist your full attention for a few hours is nothing short of amazing.
Many more.
For artists, the joy of performing for a room full of people is something that makes their years of practice, loading and unloading gear, spending money on instruments, hustling for gigs, facing rejections and disappointments, and just the sheer commitment of being a gigging musician, all worth it.
We don't even need a lot of people.  Just 20 or so and it's a party.
Venues like Diggers Services Club has long been presenting quality acts at their Blackwood Street premises.  The staff are friendly, the food is served fast and each week features a different special on offering.
From the stage, we can see the entire club and people coming and going up the escalator, stopping to listen to our music, grooving along even when they are on a schedule to be somewhere else.
And those that stay right up until closing time are clearly there because of that same commitment to music (and dance).  We love seeing the regulars who can't wait to get on the dance-floor and smile appreciatively when they see us loading in.
It's those people that make everything worthwhile for artists.  The appreciation, the smiles, the dance floor where it doesn't matter if you're alone or with a group – everyone is welcoming and knows it's the music that lifts your spirits and gets you up there, feeling every beat and taking a trip down memory lane.
I just wanted to say a big thank-you to those people who make the effort to come out, get up and dance and then stay until closing time.
We love you and appreciate you!
From all the musicians in the world – a giant heartfelt thank you.