Organisers have worked long and hard to get their event plan approved by Queensland Health.
Mea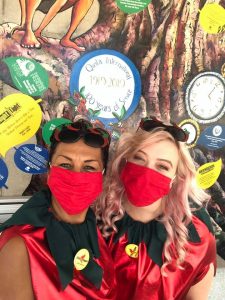 sures in place include:
Safe One-Way Entry and Exits
Non-contact Ticket Scanning with automatic contact tracing
$3 Red Face Masks
Screening Questions at entry
Extra space between stalls
One-Way traffic flow areas in Hellfire Alley
Grid-marked seating areas on the lawn
Sanitiser in key locations
Dedicated sanitisation  staff in Bar area
"It's a great deal of extra administration to bring an event like this in line with government expectations.
"We find it anathema that a 50,000 capacity stadium can have patrons seated directly next to each other, yet as a small event of up to 2000 people, we have to dedicate many hours of time to getting our ducks in a row to provide patrons the ability to socially distance," said Sandra Beynon of Body and Soul Music and Events.
"Our bottom line takes a hit too because instead of 43 stalls, we can only have 34," she said.
Patrons safety is our priority now and we have taken all steps possible to ensure the best environment for enjoying a fantastic afternoon and evening out, celebrating all things chilli.
"Logan residents and those travelling from afar, are really super-keen to come along to try new chilli products, see some super challenges on stage, and enjoy live music and dance performance," said Ms Beynon
There is something for the whole family – the kids can enjoy a pony ride, spend hours in the animal nursery cuddling the cute critters, jump on two inflatables, have their face painted, not to mention enjoy some special treats like snow cones and fairy floss.
Nick from Outback Kids will also be there with his fabulous array of toys – just in time for Christmas!
For the big kids, we have Hellfire Alley, our one-stop shop for all things spicy and delicious.
We have some of our favourite food vendors there – Neshama Catering, Firing Line Low-Slow Cooked Barbecue, Carlos Tacos, Little Mamak Malaysian, Red Oriental Dumplings and wood-fired Pizza Gal.
For the sweet-lovers, enjoy treats from Oh Waffles, Sister Bake, the Iced Tea Company, Hierba Santa Organic flavoured drinks, and awesome ice-cream from Qld Ice Cream.
We are working with the Beenleigh Scout group this year as they will be providing the much-needed cheers for the brave challengers on centre stage, as well as providing usher services to keep those one-way flow areas safely working.
Scout Recycling Centres area collecting our cans and bottles and benefiting from the proceeds of the refunds.
Come along and support this festival, now in its third year, against all odds!
Visit the website for all information and ticket link, or visit the Facebook page and Event.
Logan! Get your Chilli on!