Recently, Body and Soul Jazz and Blues duo had the pleasure of playing at the Brisbane Golf Club for their monthly "Nine and Dine" evening.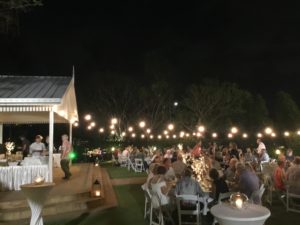 Brisbane had turned on the most beautiful late Spring weather, the setting was sublime, the fairy lights twinkled and the guests were ready for an evening of dining, and a few presentations after a 9 hole game of golf.
Brisbane Golf Club was established in  1896 and the  heritage-listed Clubhouse stands proud and was recently voted in the Top 25 Clubhouses in Australia..
It was a delight to play in such a beautiful and relaxed atmosphere and to an audience who really appreciated the professionalism and talent of these musicians – Sandra Beynon and Sean Mullen.
The duo started working together in 2011 with a residency at the Brisbane Marriott and Toowong's boutique Jephson Hotel.  Nearly 10 years later, the pair are still working all over Brisbane and, indeed, Australia, having put together four tours covering nearly the entire continent since 2015.
On the basis of their very warm reception by the membership at their last engagement, Body and Soul Duo has been invited to entertain the members at the upcoming Presentation Dinner on 31st January, before they jet off to an engagement in Bali.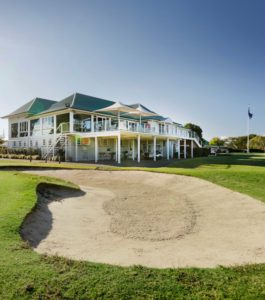 Built in 1896 the clubhouse is heritage listed.