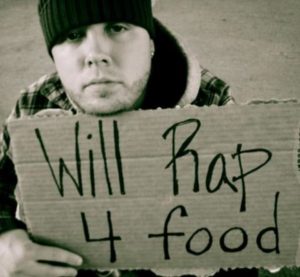 It's another year, and for many of us, we have to keep running on the wheel unless we want to drop off it.
Musicians live by the seat of their pants for a lot of their working life.   It's rare that they are handed gigs on a platter and everything has an "end date" because one day a new manager will come on board or a new club president and they want to put their "stamp" on a venue and they throw out all the old (even if it's good) and herald in a new era (sometimes good sometimes bad).
Just when you have made some relationships with a venue, you bed things down and the audience always love you, then POOF, someone new comes along and everything's changed.
How do you cope with such constant change that you have no control over and can be so frustrating?
I guess the key is always to be on the lookout for fertile pastures, because sometimes the other pastures have to lie fallow for a while.  It's a bit like not putting all your eggs in one basket!
But, as all musicians know, the hustle is tiring, frustrating,  time-consuming and requires a never-ending amount of mental, spiritual and physical energy to keep knocking on doors, getting no answer, or getting a "no", or having to kow-tow to demands which don't sit well with your musical philosophy.
Musicians who are great at marketing their brand, are tireless networkers, have a flexible and adaptable attitude will more often than not succeed in getting a good stream of performance dates.  I guess it's what sets them apart from the crowd.
Sitting on one's laurels when it comes to gigs is never a good idea, because change always comes and it's how we deal with that change that really matters.
As a part-time, small booking agent I often see artists who have good potential but have become lazy, won't sing scales, won't practice, won't learn new songs and don't even have a current live video available to send to agents.    Then I hear "oh that's not really me at my best".  And I wonder why on earth you would want to send something that isn't your best
So don't get disheartened and wonder why you don't have enough gigs.  Get out there, sell yourself, believe in yourself, even improve yourself!
Playing for others requires guts, self-belief and a the ability to take some blows and get back up.
We are all brave.  We are all warriors in an ever-changing musical world, the times are changing, yes it's disheartening sometimes, but at the crux of it, we love what we do.
That is both a blessing and a curse in a commercial sense.
Take care everybody and keep smiling.
May you get lots of gigs, functions, weddings, parties, anything!!