Just when you thought it couldn't get any hotter, Briz Chilli Fest will be taking things to the next level in 2021.
The festival is moving to coincide each year with Halloween and in doing so will create one of Brisbane's most fun family events!
Hot as Hades!  Spicy and Spooky!  Ghost Peppers and Ghouls – the fun of combining Halloween with Hotness is something that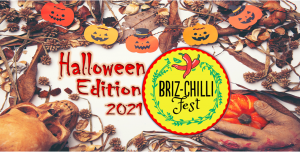 Body and Soul Australia Music and Events is taking on with gusto.
Patrons will of course be encouraged to dress in Halloween costume to be in the running for prizes for different categories.   Including a chilli-aspect in the costume will get extra points from  judges.
Skulls, flames, grim reapers – they are all images which abundantly adorn the chilli industry marketing landscape – and now they will have found a home at Halloween Briz Chilli Fest!
"We had to move the festival from its usual June date because of Covid uncertainty, and then we decided to place the Gold Coast Cheese Chilli & Chocolate Festival in that time-frame instead, so we had to move Briz Chilli Fest," said organiser, Scarlett Habanero.
Looking at the calendar, October seemed a good time and then we realised that Halloween was in that month. What a great way to bring families together for an even more fun event in Brisbane," she said.
The event is currently finalising a new venue to allow for more space to do a broader range of activities for children and adults alike, so stay posted by following the Facebook page.
It may even be a two-day event, given that Halloween is on Sunday 31st October in 2021, so a super-spooky night-time event on Saturday 30th October and an event more suitable for very young children on Halloween Sunday, 31st October, is in the planning.
Be prepared for a super-fun event that will become a much-anticipated date in the Brisbane events calendar.
"We are going to have so much fun planning Halloween Briz Chilli Fest ; just bursting at the seams with ideas and excitement," said Habanero.